LoveSick Darlings - Relationships with Consequences
LoveSick Darlings - Project Update #14
---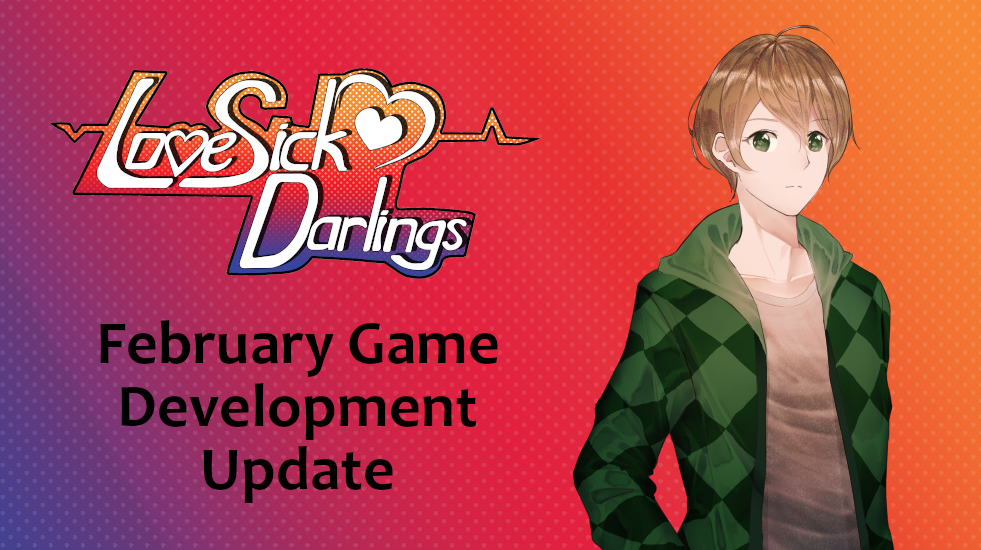 Hello everyone! I hope you've all been well since the last update! There's a bit of news to cover, so let's just get into it!

Life Update:
I don't usually talk about me as a person in these updates, but I figured this recent life decision was worth sharing with you guys.

Months ago, when I didn't even have a Kickstarter draft together, I actually applied to study for a "Masters of Screenwriting" postgraduate university course in Melbourne Australia (a city in another state from Canberra). This was originall done on a complete whim but to my surprise, I actually received an interview based off of the portfolio of work I sent over! And most shockingly, I actually got accepted!

As some of you may know, I actually come from a more traditional writing background. Specifically screenwriting. As mentioned many times previously, LoveSick is my first VN - despite having played VNs for a long time!

Anyways, I found this out late in 2019, really quite close to the Kickstarter's launch, and I had to think pretty hard about what I wanted to do. In the end, I ran the Kickstarter like you all know at this point - and I also decided to move to Melbourne to study! It's been a busy past seven days, saying some really tough goodbyes and packing a car full of all my stuff to take down to Melbourne!

And now here I am! In the city of Melbourne in Australia! This is my new base of operations, as it were. I am going to be studying this Master's here for the next 18 months while working on LoveSick Darlings. Speaking of work...
I no longer work, at least in the traditional sense. I was bouncing between jobs to keep LoveSick Darlings afloat, but with the Kickstarter being a success - I wanted to focus my full attention on this game! (Especially as I will now be studying a Master's at the same time!) The only work I do now is for LoveSick Darlings! Woo!
This also means a lot less money for me, but I am lucky enough to be staying with family for free, so don't worry about my financial situation! I'm used to living on the cheap, as that's what I was doing to keep the game going before Kickstarter anyway!

Sorry if this meandered on a little bit, or was a bit too much info on my lil old personal life, but like I've always said: I want to be 100% transparent with you guys ALL the time. I figured it was in your best interests to let you know that I not only moved cities, but also that I am studying alongside working on this game!
Here is where I should clarrify: this has not affected the timeline for the release of LoveSick Darlings! Everything is still very much on track for that September release date! Now, let's get into progress on the game...
Progress on the full game:
I have been writing and drafting scenarios from across the game's timeline. I've been thinking about setting official ENDINGS in stone at this stage, so I know.

"Endings" in LoveSick Darlings aren't going to be simple endings just based off of who you take to the dance, but there will be at least four "core results" you can achieve as Syd. Each of these "core results" have quite a few variables. I won't name names, but if you end up taking one girl to the dance that is what the game will consider a "core result." Then, the other variables (such as relationships with the other girls) will help determine how this "core result" turns out. Hopefully what I'm saying makes sense... it's hard to explain this stuff with just words!
Basically, I am nailing down a few basic ending concepts down so that I know exactly how your paths (as players) can lead to these endings. Then your decisions and relationship statuses are all taken into account as the ending plays out, hopefully providing quite unique experiences each time!
Admittedly this is all in relatively conceptual stages, and I'm doing this to make sure I understand the game's "final destination" as it were. By knowing where I am going, I'm hoping I can funnel all the stories threads to the right places. Writing is hard!
Going forward, the main thing I'm going to focus on is the alpha build of the game! That's right! It's very well on it's way! Backers in the $60 AUD tier and up all get exclusive access to alpha builds of the game. The first alpha build will cover the full day of "Saturday Week 7." This is easily going to be the longest in-game day, with a LOT of content packed into it! It should make a great first alpha. I will talk in more detail about it over on the Kickstarter page (as that is where the pledgers all get their updates!), so look forward to that!
Progress on assets:
So! The first CGs that have been worked on for the full game have been the CGs that high level backers and a certain giveaway winner comissioned from myself and Phi! This has led to some really inspired and fun scenarios and scenes - that I can't share with you guys until the game's release! Sorry about that, but I wanna respect the privacy of backers, and I hope you guys look forward to discovering these CGs and scenes yourself in-game! Phi has really pulled the stops and made some really wonderful CGs, and I've had so much fun writing scenarios to go with the CGs! (Which also took up some of this month's writing!)

What I can do is give you a tiny preview of one...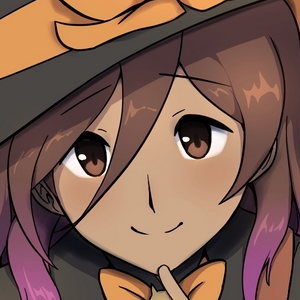 I will let you draw your own conclusions about this sneak preview...! I can't provide any hints or answers questions about it either ;P
Sprites have been going well too, but... they're not quite ready to show off yet! Some of them are super secret sprites, after all! I should hopefully have a special swimsuit-flavoured sprite reveal coming for you guys soon though! I hope you look forward to seeing them soon! (Premium Discord members will see them first - and very soon too!)
Conclusion:
I hope you guys enjoyed this update! I've actually been thinking of making these monthly (as you would've seen in the banner above!), so I can get some more time just making the game instead of reporting to you guys! So, from now on, the new minimum will be one itch update per month, alongside one Kickstarter update per month. Itch will be more about the game's development, progress, question corners, the usual stuff. Meanwhile Kickstarter will be more about marketing and official stuff. You guys on itch get the more personal and chill version of me. Kickstarter is a it more rigid, and seeing as people on there paid me money, I'm gonna be sure to report to them all official-like!
There isn't much more to say. The game is coming along alright. I hope the alpha-and-up backers look forward to the release of the alpha later this month! I hope everyone, regardless of Kickstarter backer tier, looks forward to the next update(s) though!
Thanks for reading, guys! Take care of yourselves! Til next time~
Links:
BONUS!
You may or may not have seen that I made some Valentine's Day cards for fun and posted them on Twitter! They were received well, so I figured I'd post them here in case anyone here was curious to see them and/or wanted to use them! ;)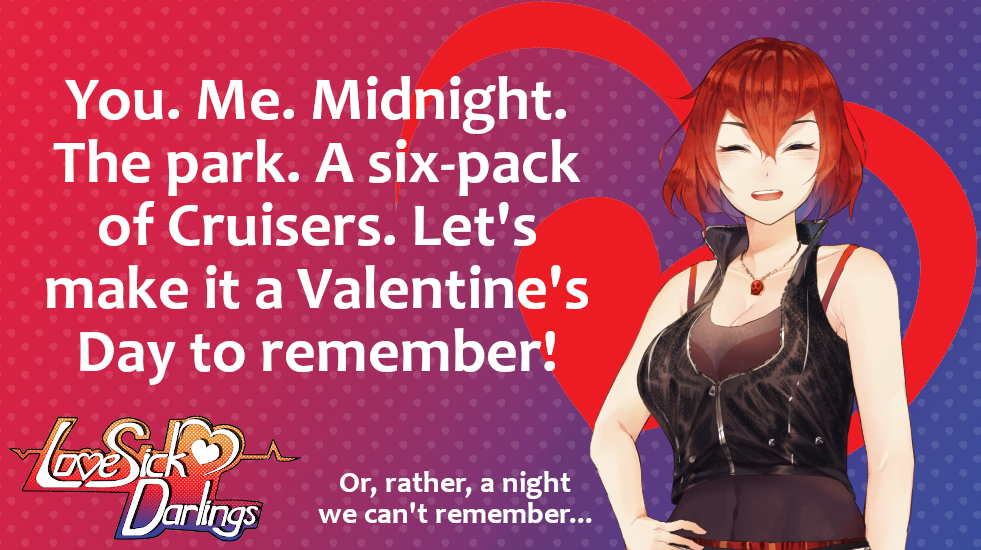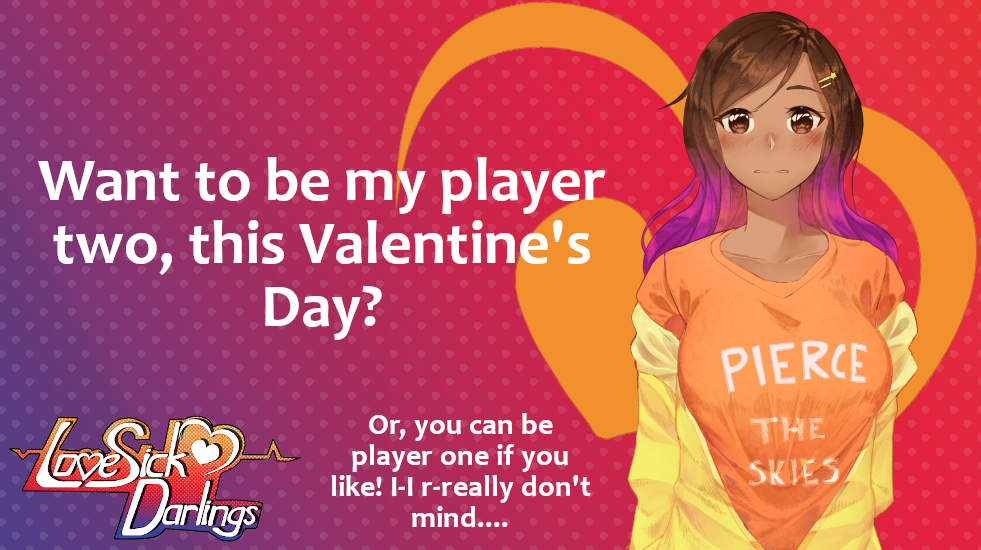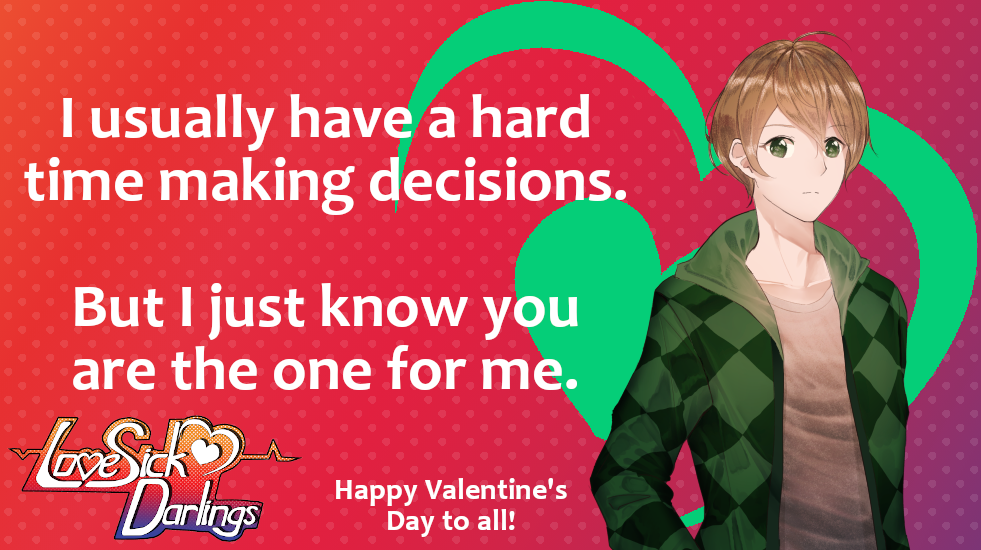 Get LoveSick Darlings - Relationships with Consequences