LoveSick Darlings - Relationships with Consequences
The LoveSick Darlings MIGW Live Extravaganza is coming!!!
---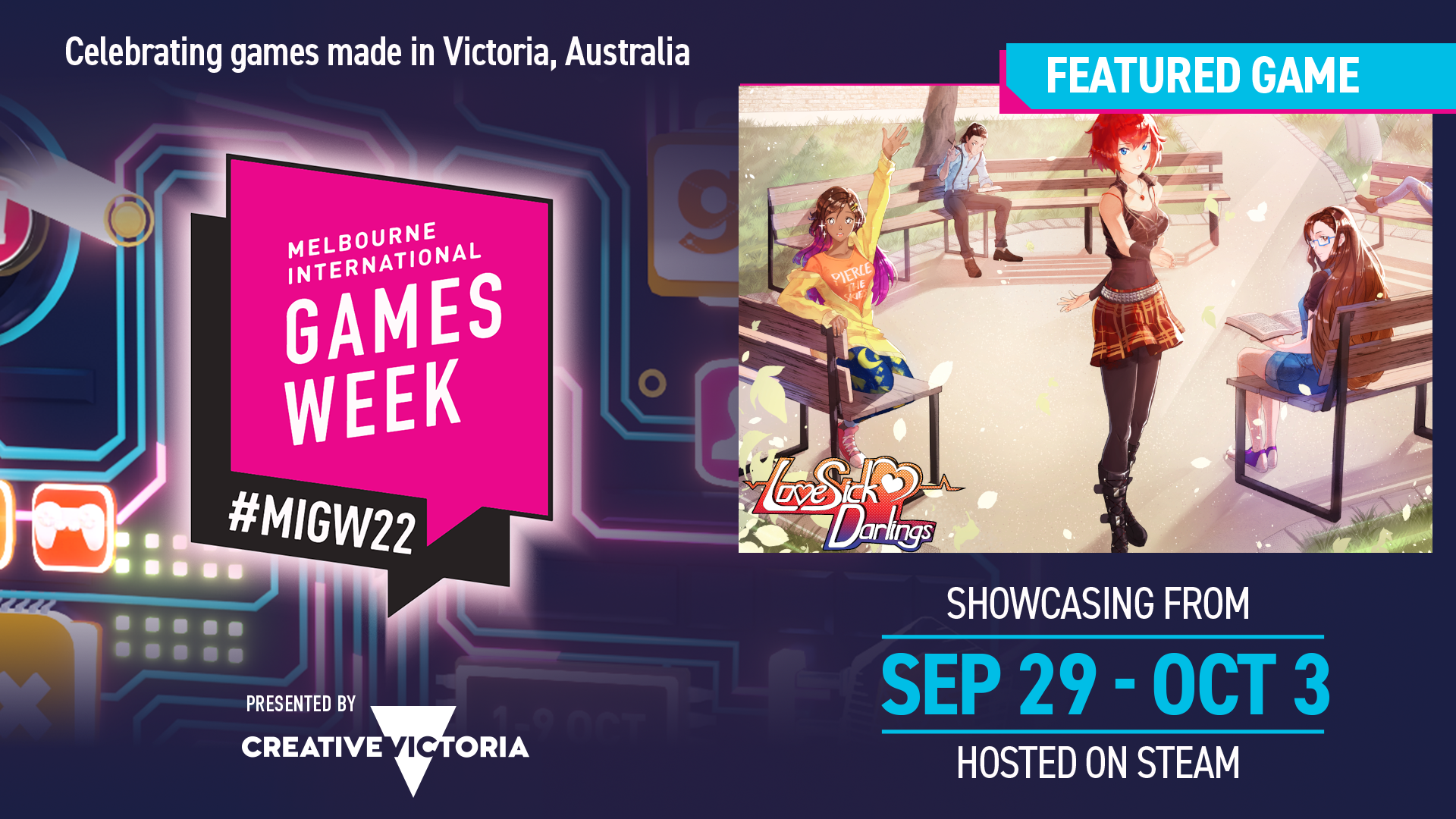 Just as the title says! LoveSick Darling is having a special live event to celebrate Melbourne International Games Week! (MIGW)

It's been a while, hasn't it Itch? I'm sorry I don't post here as much as I used to! I'm so focused on my Kickstarter updates, Discord, and Twitter that sadly this is the platform that got abandoned. I'm sorry about that! I promise I'm working hard on LoveSick Darlings! Just follow me on one of those platforms if you wanna know the latest about this game!
Anyways.... moving along to the titular news!
In partnership with MIGW, LoveSick Darlings is a featured game in the Steam Showcase that's currently running!

And as part of the deal, I am required to do a livestream. Which is what I'm here to tell you guys all about!
So after a lot of thought, I came up with a fun and exciting event for a live show! Featuring characters answering questions, exclusive gameplay, user interaction, and more! Let's check it out!
Here are the key dates for when the game goes live on Steam and Twitch!




Here's a detailed breakdown of four headline events!
So then, this livestream is going to be comprised of four HEADLINE events!

1. Intro to LoveSick Darlings and event.
First, we'll start with a brief overview and preview of the game! Narrated by me as I play the opening section of the game and talk with everyone! This will be an introduction aimed new viewers coming from MIGW who may have never seen the game before, before I dive into the special events I listed above. Approx 30 mins.

2. Character Q&A!!! The cast answer your spicy questions!
The Q&A event I detailed above in all of it's glory! This is not only a first-time opportunity, but perhaps even a once-in-a-lifetime opportunity to ask your most burning questions directly to the cast of LoveSick Darlings! So give me all of your BEST and most BURNING questions through the official google form here!!! The best questions will be answered by the character in-engine! How cool is that? Approx 1 hour.

Submit your questions HERE!!!



NOTE: Any overly explicit, political, violent, offensive, or otherwise unsuitable questions will not be answered. Not every question can but I WILL answer as many as humanly possible by the cast of LoveSick Darlings! Limit of three questions per form submission.

3. "Never-have-I-Ever" Reveal + Gameplay Showcase!!
Watch the EXCLUSIVE WORLD-FIRST reveal of the iconic teenage party/drinking game featuring your favourite cast of Australian youths! This is also the first gameplay reveal of Maisy's birthday party, so this will be a truly exclusive preview! As an audience, you will also get to vote on the questions Syd asks the group of friends - so you won't want to miss that chance! Especially as you might be shocked by the answers some of Syd's friends might give!

You might be even more shocked by the questions they ask Syd - and the answers they give to each other too! So much drama! You won't want to miss this grand finale to the event!
Approx 1.5 hours of spicy Never-Have-I-Ever goodness.

4. Dev Q&A + Wrap-up.
I'll do a quick wrap-up where I'll take questions after the big "Never-Have-I-Ever" scene showcase. I'll answer whatever questions you have, as myself this time! And then I'll otherwise ramble, as I'm VERY prone to doing before signing off. Approx 30 mins.

As you can see, this event is set to be over three hours long! And knowing me, it's going to go even longer as I tend to ramble and talk for ages at a time during live streams. This is truly going to be a live extravaganza! So please, swing on by and hang out! I've put a ton of work into this event and I think people are gonna have a ton of fun!

Be sure to follow the official Twitter account for all the latest news, and follow us on Twitch to know when we go live!
See you all when I go live for the LoveSick Darlings extravaganza On October 3rd!! Be there or be square! Maisy warriors, Jayda army, Steph secret operations... whatever group you belond to, I want you there!

Thanks heaps everyone! Have a great weekend, and be sure to check out all of the other amazing games being showcased on the MIGW Steam page too!
Links:
Get LoveSick Darlings - Relationships with Consequences