LoveSick Darlings - Relationships with Consequences
LoveSick Darlings - Project Update #7
---
Welcome to the latest developer update for LoveSick Darlings! Let's jump right into it with this week's major announcement...!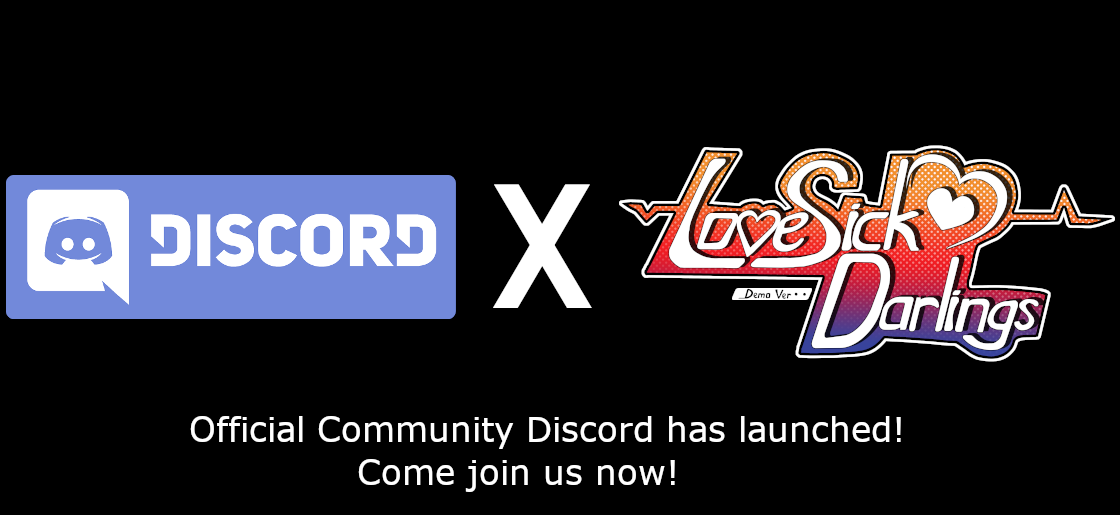 Official Announcement:
As of the second this update goes live: LoveSick Darlings has an official discord server! Woohoo! Talk directly with myself, contributors to the game, and fellow fans/followers all in one nice little community hub! I have a range of channels dedicated to the game, and off-topic discussion. Once inside, you'll probably find a few hints and surprises in the channel list and whatnot. So please, come check it out!

JOIN THE DISCORD BY CLICKING HERE!
https://discord.gg/qJ8JvAy

For those unfamiliar with Discord: it is a message service where one can gather and socialize with people from all around the world. Most servers have a theme or topic, like mine is: LoveSick Darlings. Inside, you will find lots of "channels" and discussions to be had! Naturally it's a free service that that doesn't require any payment at all. All you need to do is sign up to the service and make an account. It's easier seen than explained though, so - don't hesitate to give it a go! Join the fun at the Official LoveSick Darlings Community server!

Why make a Discord? I want a way to more directly connect with people who play my game - but most imortantly, I think the greatest thing about Discord is how it can create a dedicated space for one community to be themselves. The problem with Facebook and Twitter is that those places are hard to really engage and just be natural with people. Discord allows both you guys and myself to have this positive space to talk about whatever.

Why join my Discord? Well, there's all kinds of exclusive content and hints that will be going there. You can also chat directly with several of the artists and contributors to LoveSick Darlings (including myself, obviously). And what better reason than to be a part of a community? I want to continue and expanding our little community - and this is the first big step. It's our "start line," as anime portagonists like to say, haha.

Like I said, the Discord is up and running right now, but just like my game - it's a bit of a work in progress. If I am missing anything, or if any of you have any requests for the Discord server - don't hesitate to make them heard! I was considering making whole channels dedicated to each of our heroines but... we'll see how we go. Maybe if I get enough requests, I will make a "Jayda Fan-Club" channel... ;)
But all suggestions are welcome. Really.

That about covers Discord. If I've missed anything, just ask, or better yet, join the server and see for yourselves! No pressure though. If you don't like it, you can always leave. It's a relaxed and fun environment - here's the link one last time!

JOIN THE DISCORD BY CLICKING HERE!
https://discord.gg/qJ8JvAy


Progress on 1.3, Steam Release, and more:
I know I usually talk about progress on the game here, but as I am focusing on 1.3... I have altered the section slightly reflect that!

The Seam Store page for LoveSick Darlings is pretty much ready. Waiting on some graphics for banners and whatnot, but it's pretty much ready to go. That'll be good to get crossed off!
The game itself is about to receive a major editing comb-through this coming week as final art assets, among other things, start getting implemented. I am also updating the (surprisingly beloved) end of demo review to try and give even better/more accurate results! Which should be fun.

I am also in fact going through some voice acting auditions I received from some Australian voice actors I reached out too! The reason I went with Australian actors is so I can have the voices of LoveSick Darlings be authentically and realistically Australian. But in a nice and normal way - not like crocodile dundee or anything. If you need a quick refresher on how Australian naturally sound, just look up Margot Robbie or Chris Hemsworth speaking normally in interviews. They have very mild but still noticable aussie accents when they're not in Hollywood blockbusters. Accents like that are what's going to be hopefully implemented into LoveSick Darlings!

But, you say, "Voice acting?! Where did this come from?!"
Well, my dear reader, voice acting has been in the works for a little while now. I've decided to go public and talk about it because you guys are going to hear their voices very soon. LoveSick Darlings wasn't originally planned to have voice acting, but as I have been drafting plans for future fundraising - I decided to make limited and partial voice acting a "stretch goal" to hit! Which is a natural fit in my opinion, as LoveSick Darlings doesn't need voice acting. But if we manage to raise enough money for it, I would love to have voice acting in LoveSick Darlings. That's your sneak peek for this week and what kind of crowdfunding goals I'm going for ;)

Other than that? Lots of other top secret stuff. Had to get a lot of quotes from various people over the last few weeks for the game's upcoming plans. I needed to know some price estimates on how much certain features may... cost me to put into the game. There's some more hints on the Discord but... I won't bother you again with more teases!


Progress on assets:
Not much on the art side this week! But I can promise you will see the finished sprites in all their glory for the launch of 1.3. I can't wait for you to see them. I'm sorry I can't show you guys the sprites now!
As a reward for your continued patience, here's a sneak preview of a certain lady from LoveSick Darlings...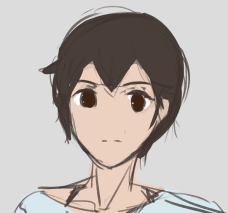 Looks pretty similar to last week's sneak preview doesn't she? I wonder why that is... was she perhaps also once a blank silhouette?
Question Corner:
After a small hiatus, the question corner is back! This time, it's relatively simple. I have been thinking of hiring a third artist for the game. I want them to do in-game "social media" art for me. These will be artworks that function much like CGs, but will instead be used in a new gameplay system where people's text messages will have profile pictures assigned to them. Remember how in the demo Maisy takes a selfie at the restaurant with Syd on the first day of the game? Well, with this system - you could finally see this photo! Along with all other photos characters take and share in-game.This new system where we create "social media pictures" will require more art asssets. And frankly, Ippers (sprite artists) and Phi (CG artist) are nearly at their limits. This social media system is only a concept right now, and will be a Kickstarter goal too (much like the aforementioned voice acting). This means it won't necesarily make it into the game yet, but if we hit the funding goal - I will need another artist. My question to you all is:

Is hiring a third artist a good idea?
Poll is linked here:
https://www.strawpoll.me/18649117

This is the artist I have been talking to (SLIGHT NSFW WARNING! But they're very talented!):
https://mobile.twitter.com/awan0918

The advantage of a third artist is, well, more art. If the crowdfunding earns enough money, I'd love for the game to have more art. A third artist also means that "social media pictures" system can potentially be implemented. If people vote no to a third artist, this system will likely be scrapped. I don't see a way for it to get done without more art help.

The disadvantage is that there may then be "too many cooks in the kitchen." I have received nothing but praise for the art in LoveSick Darlings, which is great for the artists - but a common bit of feedback is "I wish the art style was more consistent between CGs and sprites." Which is fair enough. People love both art styles, but it's the differences in the styles and how the game uses both that sometimes bothers people. So a third, may frustrate people further.

Let me know what you think by voting. Please feel free to be honest. If you have more extended thoughts, I will be starting a discussion about this question in the Discord soon too!

Conclusion:
So, thanks for coming by again this week - huh? What do you mean I am forgetting something?

Oh, I promised really big news last time didn't I? I am sorry to say that I will have to ask for you guys to wait a little longer! The plans are pretty big, and it's taking a lot more of my time and effort than I thought. I don't think I can share much yet. All I can confirm is: the Kickstarter is coming. Sooner than some of you may think.

... but not THAT soon. I promise to talk about it in detail next time! Thanks so much for your patience, everyone.

So, PLEASE tune in for the next update! Everything you've ever wanted to know about this game's funding future comes then.
You know the drill by now. If you still read these and don't follow me already, find me on @LoveSickDarling on Twitter. All the news and updates are posted there first! Apart from that, you can find me, the game's artists, other contributors, and fellow followers over at the community discord! Please come check it out. I put a fair bit of work into it, and I'd love to hear what people thought!

Join the official LoveSick Darling Community Discord by clicking the link below!
https://discord.gg/qJ8JvAy

Thanks for coming by and taking the time to read another one of these updates. Til next time, guys!
Get LoveSick Darlings - Relationships with Consequences