LoveSick Darlings - Relationships with Consequences
LoveSick Darlings - Project Update #11
---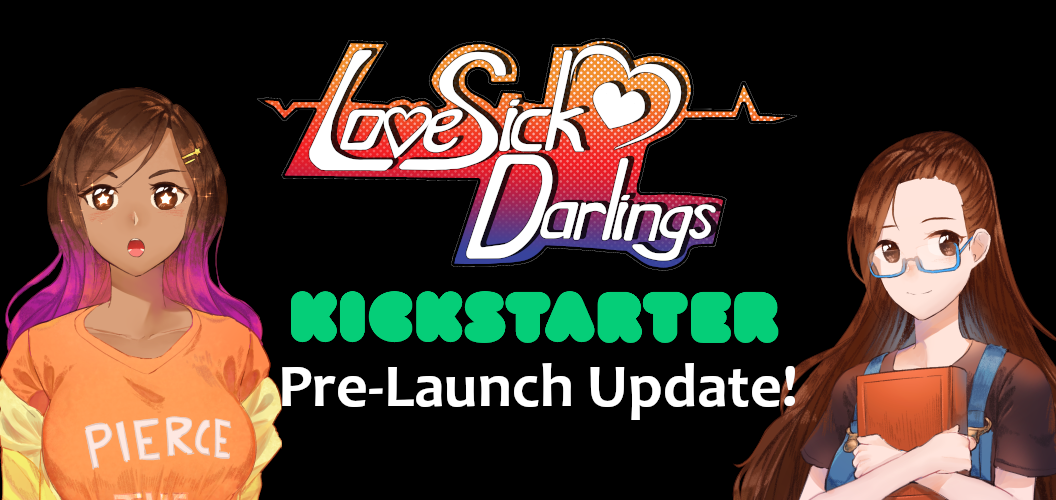 LoveSick Darlings demo 1.3 launches officially NEXT WEEK! It's finally here! I can't wait for you guys to play LoveSick Darlings in it's cleanest, slickest, shiniest form yet! Thanks so much for your patience!

The current target launch date is December 3rd. This is subject to change, as there are just a few last assets I am waiting on. But I am confident we will launch then.

This update itself is going to be pretty brief, but I'm gonna discuss various things to do with the Kickstarter - including some background info and resources!

Official Announcements:
You heard it right, December 3rd is the (planned) date for the 1.3 demo to go live! Of course, as most of you know, this also means this will be the date the Kickstarter campaign goes live. Not to mention, the shiny new Steam page (which will be hosting the 1.3 demo along with itch.io) will be up then too.
Before we move on to game and asset news... let's talk Kickstarter.
The funding goal for the LoveSick Darlings Kickstarter is going to be $4,400 AUD (~$3000 USD).
Why this amount? Check out this handy pie-graph which breaks it all down!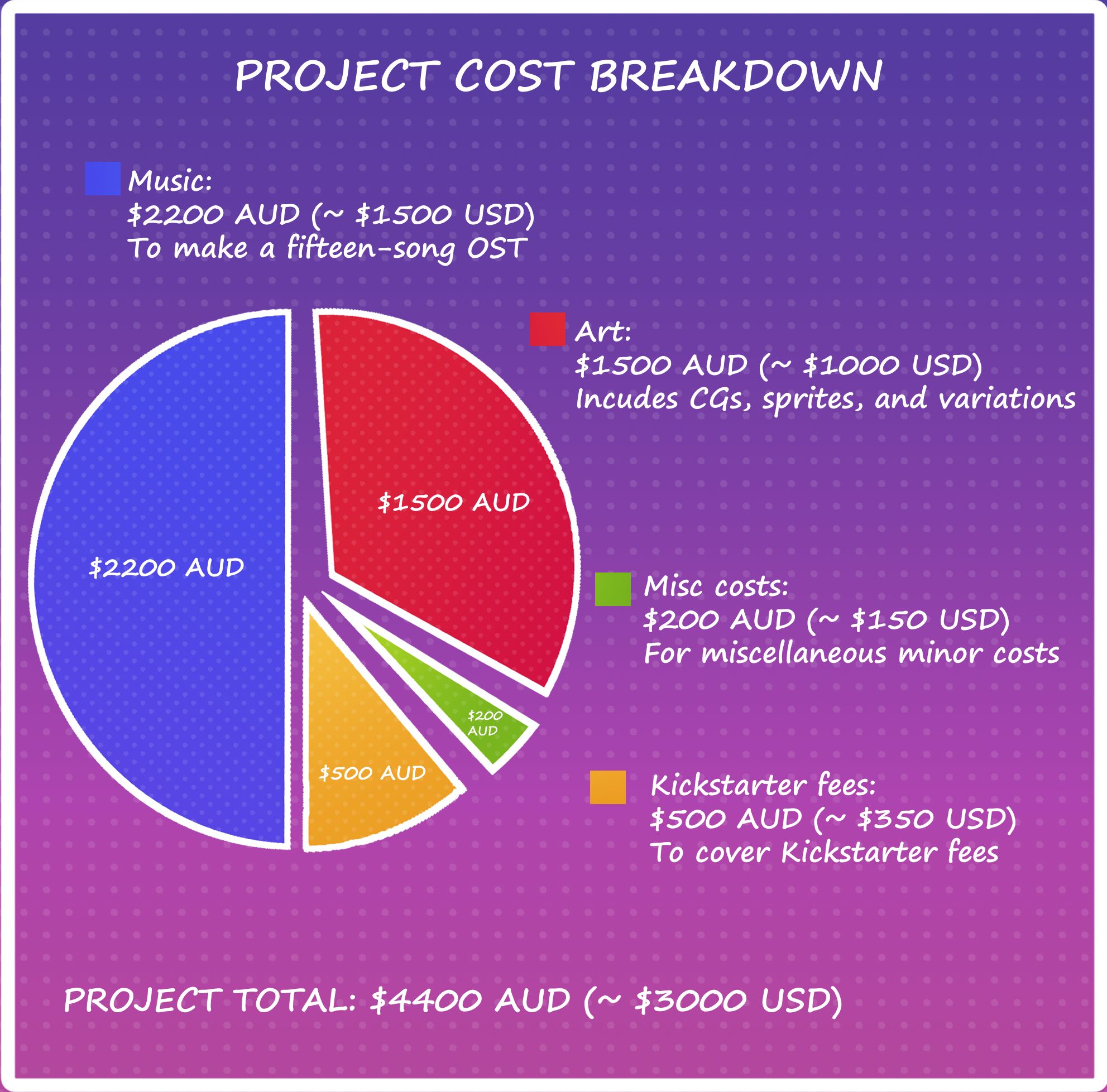 I have it explained in more detail on the Kickstarter page itself, but you can see here exactly where this money is going. As one would expect, it's going to all the freelancers and creatives I have lined up to do work on the project! As for backer rewards, stretch goals, and more info... you'll have to go check out the Kickstarter when it goes live for that!

Speaking of which, the LoveSick Darlings Kickstarter preview page is LIVE! Right now! Really! Check it out here!
https://www.kickstarter.com/projects/lovesickdarlings/lovesick-darlings-a-visual-novel-with-consequences
WOW! Isn't it cool?! Be sure to sign up to Kickstarter and click "notify me" so you know the second it goes live! There is even going to be a limited-time special deal available only for the first days of the campaign you guys won't want to miss out on that! I can't wait to see the little follower counter go up!

Progress on 1.3 demo and Steam Release, and Kickstarter:

As you might guess, the Kickstarter page and Steam storefront are all fully ready. All I need to do on either of them is click "launch"! How exciting!

The 1.3 demo is actually complete too. All the sprites are implemented. The dialogue has been edited. It's been bug-tested thoroughly (I even have a few volunteers secretly helping with this! Thanks so much, you guys!). All that's left is one CG (which is still in production), and a few extra animations are being implemented by yours truly. That's right! If you didn't know, this demo even has simple sprite animations. They bring a nice little extra dimension to the game - which can help lighten up VNs a bit, in my experience. I hope you guys enjoy them!
I must say, after all this editing... I am really looking forward to going back to writing new content for LoveSick Darlings... but that can wait! For now, the Kickstarter and 1.3 are of paramount importance! We can all enjoy the new content once it's funded.
Besides, the 1.3 demo has heaps of new content for you guys. It just doesn't feel new to me, having read through it dozens of times... ah well, let's move on! To the art asset update!
Progress on assets:
I mentioned assets just before, but all I am waiting on is one last CG. It's not even an especially important one - but it's a nice one! It features everyone's favourite awkward artist...
Stuart!
... Who did you think I was going to say?

... I am not joking. There is a Stuart CG in the works. I hope you all like it! He's a character who grew a lot in popularity - and I'm finding myself just as fond of him recently!
There is also a magnificent trailer for the game in production. It's nearly ready and... not to get you guys too excited, but I really do think it's incredible. The video artist Soraya is knocking it out of the park. I really don't think there couldn be a better trailer for my game than the one Soraya has made. It's perfect.
It won't go live until everything else does, but... word on the street is, the people in the Official LoveSick Darlings Discord server will be getting the first look at the trailer! So, if you want be one of the people to see it first - be sure to join the server! Join: https://discord.gg/bbWutGt
I've been posting lots of art, screenshots, and other previews on the Twitter too - which you should totally follow and check out if you don't already! Click on the "media" tab if you just want to see all the juicy new artwork. Featuring the likes of Jayda, Maisy, and even Steph!
One last note regarding art assets... keep an eye on the official itch.io page, and the Twitter account for a slow and gradual transformation into some new assets... you may even be starting to see some changes now!
Question Corner:
Thank you to everyone who responded to the question posed in the last update's Question Corner!
I was actually surprised to see that there are just as many of you who use Discord as Twitter - so I'm going to making sure I make all the posts the same across both platforms so no one misses out on anything! (And thank you to those brave soldiers who read these updates solely via e-mail notifications. I see you. And I love you.)
I have a new question! It's very simple, actually.
How interested would you guys be in me livestreaming a play-through of the LoveSick Darlings 1.3 demo?
And I promise you, you can be honest. My feelings won't be hurt if you guys don't care. I just thought it might be a fun way to connect with you guys. Let me know what you think by voting!
https://www.strawpoll.me/19002714
I look forward to the results!
Conclusion:

And thaaaat wraps up this quick little update for you all. I hope you enjoyed reading it - but most of all, I hope you are HYPED! Stars-in-your-eyes HYPED to see the demo, steam page, and Kickstarter all go live! It's all happening!
In the meantime, be sure to follow the official Twitter account for all the latest news and updates! Or if that isn't you speed, join the official Discord server! Or do both. Both is good.
If you didn't already, please check out the preview page for the Kickstarter! It has gone live, and it will be the fastest and most guaranteed way to know when the project goes live! That way, you won't miss the limited-time deal available only at the start of the campaign!
Share the page with your friends! Get them to press "notify me!" button! Post it everywhere! Go wild! I want as many eyes on this project as possible - so that this campaign turns into a success! More than anything, I want to get the full and complete LoveSick Darlings experience into all of your hands - and this is how we do it.
Here is the link for the preview page one last time. Don't forget to press the "notify me" button!:
https://www.kickstarter.com/projects/lovesickdarlings/lovesick-darlings-a-visual...
Once again, I thank you all for coming so far with me - and I hope you guys continue to follow me on this crazy journey!
Next time you hear from me will be a big formal announcement post about the demo and Kickstarter page going live. I can't wait to see the turnout for the launch! Admittedly, I would be overjoyed just to hit the minimum funding goal - but there are some super cool stretch goals I hope we can reach too!
I'll see you all then! Thanks so much!

Get LoveSick Darlings - Relationships with Consequences