LoveSick Darlings - Relationships with Consequences
LOVESICK DARLINGS 1.3 DEMO + KICKSTARTER LAUNCH!
---
IT'S THE DAY WE'VE ALL BEEN WAITING FOR!

The LoveSick Darlings Kickstarter, Steam page, and the 1.3 demo are all live!
Check out the Kickstarter:
https://www.kickstarter.com/projects/lovesickdarlings/lovesick-darlings-a-visual-novel-with-consequences

Please consider supporting us on Kickstarter!
Check out the Steam page (download the demo and wishlist the game too! It really helps!):
https://store.steampowered.com/app/1151410/LoveSick_Darlings/

Download the 1.3 demo either here on itch.io or Steam! Wherever you prefer!
Note: Steam currently only has the windows version live. The mac and linux versions are only available here on itch.io at the moment. They're coming to Steam soon!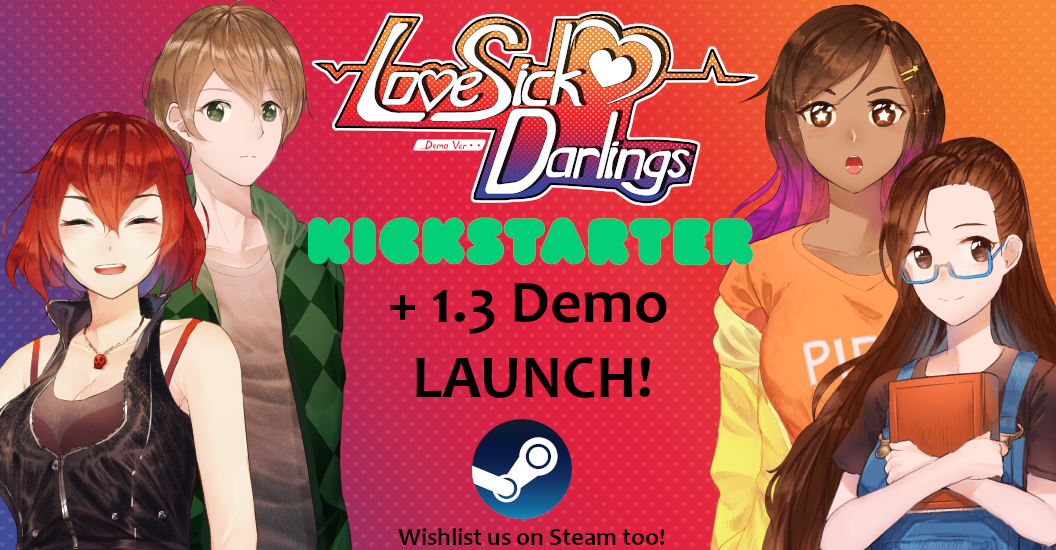 This is just a brief announcement update, there isn't really much else to say. Here are some brief patch notes:
1.3 Patch Notes:
- Added sprites for all named characters. No more silhouettes!
- Updated ALL existing sprites and most CGs
- Additional backgrounds added and updated
- New and slightly updated free time events added for all three heroines
- FOUR new CGs (+ varitations!) added
- Two full days of content added to the game
- Updated the "Player Review" and adjusted associated values

As you can see... 1.3 is a BIG update for this already HUGE demo. I hope you all enjoy playing it and discovering it all for yourself (including a few secrets!)
Before I go, I just want to thank everyone who helped me and this porject come so far! There are so many of you thank, so I won't bore everyone here, but to all the artists, friends, and family who supported this project: I thank you.

But most of all, thank you to everyone on here. Everyone on itch.io who tried this game out, even in it's early stages. To everyone who sent a message, left a review, or made a comment. Thank you all so much for engaging in this game and for being a part of this community.

If you want to keep up with the Kickstarter and all the latest news, be sure to follow the project on Twitter:
https://twitter.com/LoveSickDarling

And/or join the official Discord! (lots of exclusive news, sneak peeks, and fun chats happen here!):

https://discordapp.com/invite/4YAgnvd
Thank you all. I hope you enjoy the 1.3! I put a lot of work into it, and I truly hope it shows. I will speak to all of you guys again soon!
Here are the links in case you don't feel like scrolling up...

Please consider supporting us on Kickstarter!

https://www.kickstarter.com/projects/lovesickdarlings/lovesick-darlings-a-visual-novel-with-consequences
Check out the Steam page (download the demo and wishlist the game too! It really helps!):
https://store.steampowered.com/app/1151410/LoveSick_Darlings/
Get LoveSick Darlings - Relationships with Consequences