LoveSick Darlings - Relationships with Consequences
LoveSick Darlings - Project Update #12
---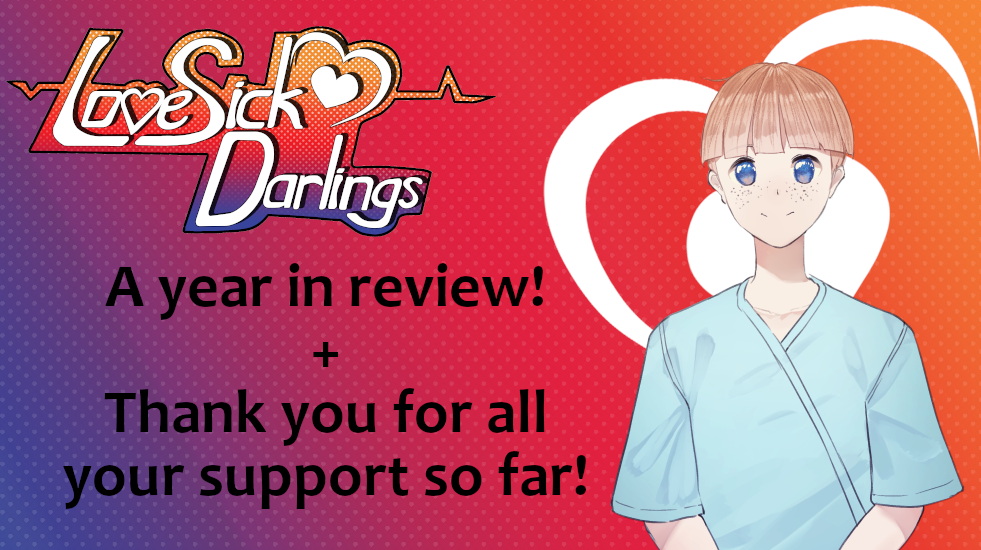 LoveSick Darling's 2019 in Review:
Seven months ago, I posted the first public demo of LoveSick Darlings to the world. This was the 1.0 demo of the game. It had all kinds of odd bugs, a certain sequence of choices looped on forever, there were blank backgrounds everywhere - and most egregiously of all, I had a bunch of blank silhouettes as in-game placeholders for side character sprites. It was a really rough prototype. It was a shell of a game in many ways - especially compared to it's current self.

But something happened.
The game gained traction! By some miracle, despite the many flaws in 1.0... people were resonating with the game! The game hit 100 downloads within 24 hours on itch. I don't honestly know if those are impressive numbers but, the idea that 100 people saw my game and thought: "Let's give this a try", was just so humbling. And the number continued to grow. We hit 500 downloads in June! Then with the launch of the 1.3 demo, LoveSick Darlings sits on a total of 2100+ downloads across Steam and Itch!

It has never stopped being amazing to me that so many people have tried my silly little game out. And most shocking of all: the reception has been overwhelmingly positive. As a creator, all I want to do is tell stories that touch other people's hearts like mine has been by the many great content creators I love. If I can be that cool content creator for even just one person - I have succeeded. And based off of the feedback I have received - it seems like I have already become that creator for a few people.
Thank you all for helping my dream come true.
Now, let's go cover the usual basics like the progress reports and question corner - but read on until the end to see some rather exciting news for LoveSick Darlings! There is a brand new website being launched, and I am going to hold a giveaway for the game to celebrate the amazing progress on Kickstarter!
Progress on the full game:
Ahhhhh, how nice it is to have the full 1.3 demo out there in the world. Now, I can finally focus on working on the full version of LoveSick Darlings for you all to enjoy. That's right! The Kickstarter is only ten days in, and I'm actually already working on the full game!

In fact, those following the game on Twitter will have already seen some brand new gameplay. The LoveSick Darlings gang discuss the concept of yanderes and things get weird. And not in the way you might expect. Be sure to check it out now, if you haven't already!
The gameplay linked above is a scene from "Week 8" the second last week of the game! It's a pretty interesting scene, especially as it comes from such an odd conversation point. But it's fun writing scenes with odd discussions and insightful dialogue. I think even from the clip alone you can learn a few interesting details about Maisy and Steph in particular...
Anyway, progress has begun on "Week 8" of LoveSick Darlings. I will be sure to post more gameplay in the future too! Make sure to follow the game on Twitter so you don't miss a thing!
Progress on assets:
... There isn't really much to show! Everything in the works right now is far too early to show off. What I can do is show off assets in the 1.3 demo for your pleasure.
Who to show, who to show...? Ah! I know. Here's a sprite I haven't unveiled on itch yet! (But it is present in the 1.3 demo)


It's everyone's favourite young lad from LoveSick Darlings! Maisy's hospitalized little brother. She loves him more than anything in the world, and players of the demo get to see first-hand how much he means to her. His design does a great job of communicating how vulnerable this poor kid is. It's sad, but it's exceptionally well-done. Congrats to both Ippers and Edhelsen for bringing this character to life.
That's about it for art though. Have you unlocked all the CGs in the 1.3 demo? They're pretty easy to unlock, mostly. But it can still be a challenege to get them all in one run! Otherwise, I hope you guys are enjoying all the nice new art in the 1.3 demo version of twebsithe game :)
But I do I have a new different kind of new official asset to show...!

Official LoveSick Darlings website LAUNCH!
LOVESICK DARLINGS HAS A DEDICATED WEBSITE NOW! It's official-looking and amazing! Please check it out:
The incredibly kind and talented Mehdi made this website for me, and I couldn't be any happier with it! Please check it out and explore it. It has all the basic details, and nothing revelatory, but having all the game's info all in one clean place - rather than on itch blogs and steam store pages - is really great! I hope you guys like it too!
Moving along...
Question Corner:
And now to wrap up the last question corner for the year. What were the results, you may ask?
Two weeks ago, I asked you guys whether you'd like to see me do another livestream on Twitch for LoveSick Darlings. The results were very positive! Almost everyone who voted!

That said, it is also likely that anyone who didn't care wouldn't have voted at all but... I guess that's not important. In any case, you guys want a livestream of me playing the game! At least, 80% of the voters do! Which is good enough for me.
And that is just what you will get! I haven't got a date for the stream locked in yet, but be sure to follow the official Twitter for updates. This is where I will announce the date of the stream. I aim to do the livestream long before the Kickstarter is over!

You can follow the official LoveSick Darlings Twitch channel to know when we go live, too!
Thanks for the year of answering my questions and being a part of a dialogue together on the future of LoveSick Darlings! Every single poll you guys voted and partook in has been a part of this game's success so far. Thank you to everyone who voted across the polls this year for engaging with me and helping this game come so far!

See you next year for more Question Corner segments - all the way to the game's release! But before that... I have a special announcement (?!)
LoveSick Darlings Custom CG Giveaway! + Other Kickstarter News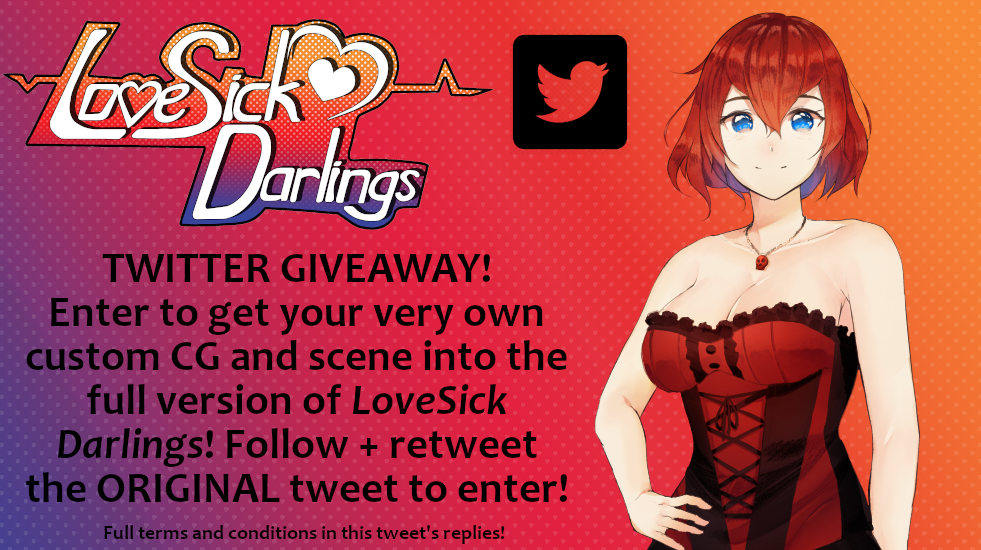 You read that right! To celebrate the amazing progress LoveSick Darlings has made on Kickstarter, I have decided to hold a giveaway!
To enter it, all you have to do is follow the official account on Twitter and retweet this tweet!
Terms and conditions apply! Read the tweet and the attached T&C's!

Other Kickstarter notes:
- The "early-bird special" is officially over, but... there is another limited-time special on at the moment!
- The special deal on the LoveSick Darlings Kickstarter page is this: the first two backers to back the "special CG tier" will get a custom scene written by me for FREE with their CG purchase! This is the deal of a lifetime! For $300 USD you can get a CG and scene made to your specifications! How amazing is that?! This deal is EXTREMELY limited! So act now, before it's gone forever! (If it sells out, you can also get just a CG for the same price! $300 USD is a steal!)
- You can theoretically win the giveaway AND get the CG backer rewards! Imagine that? Two CGs and/or scenarios in the game that came from you! Don't hesitate to back the CG and custom scene tiers now!
- Prices for all the higher tiers on the LoveSick Darlings Kickstarter have all been adjusted! Custom scenes and CGs have NEVER been more affordable! Plus, you'll be supporting the LoveSick Darlings campaign and helping us hit those stretch goals. Everybody wins! If you were considering buying a CG or custom scene before, but weren't sure about the prices, there is NO better time than right now! Secure yours today!
- If you haven't yet, please consider supporting this game on Kickstarter! It would mean the world to me!
Conclusion:
After the launch of the 1.0 demo in May, the production of this game has been a whirlwind of events. But I really do mean this in the best way. To conclude this little update, why don't we take a trip down memory lane and recap the best bits of this year so far for LoveSick Darlings?
In 2019, LoveSick Darlings and/or myself:
- Released the 1.0 demo as the game's first build. This included around 30 unique sprites, 15 different backgrounds, 4 ugly place-holders, and 10 CGs (variations included). The demo sat at about 120K words, and went for a generous 6+ hours.
- Hit 100 downloads in a week. Then 500 a month later
- Released 1.1 with major game improvements, including a new scene
- Received my first-ever fan-art
- Held two 5+ hour long livestreams where I commentated over the game!
- Shared dozens of screenshots from development
- Posted a total of twelve developer updates since May (including this one!)
- Had twitch streamers and youtubers cover my game
- Held several "question corners" to interact with you guys
- Launched the Discord server, which is still going strong
- Got four amazing voice actors to star in this game
- Met so many incredible and amazing people. Both professionals and brand news friends alike!
- Created and now get to be in the most lovely, kind, and wonderful community a person could ever hope to have. The LoveSick Darlings community is so amazing and lovely. I'm so lucky to have you all!
- Ran my own booth for LoveSick Darlings at a full-on CONVENTION!
- Submitted Jayda to a "Best Girl of 2019" competition, where she even came SIXTH!
- Tested the 1.2 build of the game internally, and shared it with close friends of the project
- Got Phi to create half a dozen more amazing CGs
-Ippers re-did all the character art so far, and made sprites for everyone else too
- Got a new colouring artist
- Transformed the game's UI and interface
- Got a really amazing high-quality trailer for the game made
- Got to collaborate with some of the talented people I have ever spoken to
- Over the last seven months, received 18 highly positive reviews on itch
- Gained 250 followers
- Released gameplay snippets
- Made some amazing marketing assets with both MadnessRage and Awan!
- Have gotten an army of people who all love Jayda, ready to do anything for her (I've always wanted to have a character of mine be a "waifu"!)
- Launched a Kickstarter, and got 50% of my funding secured in the first week!
- Launched the new and improved 1.3 version of the game. With dozens of new art assets, no more placeholders, 25K more words added in, no more bugs, and with filled-in backgrounds galore!
- Put LoveSick Darlings live on Steam, with the 1.3 demo available there too!
- And finally, I'm currently posting some kind of news, updates, and gameplay every single day!
Wow! When I write it all down like that... it really puts this whole year into perspective. A lot has happened with just this game alone.
It's been an incredible journey so far. Thank you all for coming so far with me on the development of this game.
But the journey has only just begun. I mean, I am still out here securing funds for the game! This has been the easy part. Once the Kickstarter wraps up, I need to go and finish this game already. I want this game to be in your hands as soon as humanly possible. I hope you all look forward to the day you can get the full LoveSick Darlings experience!
Until then, let's keep at working on this Kickstarter! I can only do it with your support - so let's keep up this amazing pace and hit this campaign out of the park!

This is also the last time I will make a developer update / devlog until the holiday season is well underway so, I should say this now while I can: Happy holidays to everyone, from here in Australia - to all across the rest of the world! One of the best parts of this game has been the chance to talk to people from all around the world and connect with their cultures. It's been amazing to hear from people in far-off places like Poland, Indonesia, and Brazil tell me about how relatable the characters in LoveSick Darlings are to them. There is no greater honour than to hear my story can connect with so many unique and wonderful people from across the world. So, wherever you are reading this from and no matter what/how you celebrate the end of the year: I wish you the happiest holidays! Enjoy what's left of the year to the fullest! Take Maisy's advice and take that leap forward to do the things you wanted to do this year. Don't just make resolutions for next year - make sure you follow through on those resolutions from last year too! There are still two weeks left in 2019! You can do it!

Happy holidays to everyone! You may hear from me again here on itch before the end of the year, but if you don't, have a happy new year too!
Thanks everyone!

Links:
Get LoveSick Darlings - Relationships with Consequences