LoveSick Darlings - Relationships with Consequences
LoveSick Darlings - Project Update #3
---
I am back with another developer update - with all the latest LoveSick Darlings news and progress! I hope everyone had a great E3 and week since the last update. I can't believe I unironically live in the universe where Banjo Kazooie is coming to Smash. With my own disbelief in reality aside, let's get right into our first bit of news....

Stream Recap:
This Friday night/Saturday morning (depending on your timezone...) I wrapped up my developer play-through/commentary of LoveSick Darlings! It was a bit more of a chill stream, but it was still so much fun.
Especially the part where I actually got to show you all some brand new juicy content!

That's right, for those who missed it, I actually previewed the (slightly unfinished) next day and a half of the game after the demo would normally stop. If you're hankering for a preview of upcoming content, make sure you check out the stream's re-upload to YouTube!

Check out the fresh and spicy LoveSick Darlings content here, posted exclusively to the official LoveSick Darlings YouTube channel!
https://www.youtube.com/watch?v=umY_HQrjfm4
While you're there, why not subscribe? Both Part 1 and Part 2 of my commentary/AMA stream are on the channel for your viewing pleasure! I can't think of a better way to kill 5-10 hours of spare time. Why not chuck them on in the background and listen to them while doing something boring? My soothing Australian accent as I read out the dialogue of teenage girls is really soothing! (Probably!)
Progress on the game:
Not long after the last Devlog, I was completely bowled over by a cold, and put out of commission for a week. Winter is truly rolling in on Australia right now, so everyone's getting sick. I was one of the unlucky one's who got sick right away this time. Dimitri's status: RETIRED. Virtually nothing outside of e-mails got done that week, I'm sorry to say.

But I got better this week! And I've been plugging away at filling in dialogue options, creating unique conversations, and more - all centered on the increasingly complex protest march Social Event at the end of the second week of the game! It's growing to be more complex than the art exhibition - but I suppose that's the idea, isn't it? The game SHOULD get bigger and better as it goes along...

There's nothing I can share or show about it, at least nothing that isn't just lines of boring code, but I hope the sneak preview of "Week 7, Thursday" during the livestream was fun and interesting for everyone! I completed that segment of the game a few weeks ago, so it's still subject to change, but I really do hope people like it. I'm quite proud of a few scenes in it.
Progress on assets:
I know this makes three updates in a row with no meaningful news on art or sound but... I'm really sorry! There is nothing to share or show at this stage in the assets department. I'm drafting up some new CG requests for the part of the game I am working on now, but that is all I can say. Thanks for your patience!
Today's cover image was brought to you by: https://twitter.com/ARHDian! It was yet another request from Xolf (thanks for sponsoring so much LoveSick Darlings fan-art!). It's a lovely piece, check it out below if you haven't seen it.
Question Corner - FOLLOW UP!
So... last fortnight, I came to you all with a question regarding the future of background assets in this game. I am very thankful for the response I received! I will quickly share my thoughts with you all.
In general, the overwhelming majority are leaning towards generally keeping the backgrounds in-game as photos. The split, however, is whether these photos should be put through a filter or not. 50% say it should be filtered, 40% said keep the photos as they are, and 10% said I should get original backgrounds. But even with that major split, my job has been made much easier. I know that all I need to do is take more photos at the very least - I don't need to worry about commissioning original backgrounds. I can fully eliminate that option. Sometime in the future, I will put my photos I use currently as the game's backgrounds through some filters and compare how filtered and unfiltered photos look beside one another. I will make sure to share these comparisons with all of you and gather everyone's thoughts. But we will cross that bridge when we reach it.

For now, thanks so much to all the people who responded! Your feedback is so very much appreciated!

No question this week, but I plan on asking a pretty big/major question next fortnight! So keep your eyes peeled for that.

But honestly, that wraps it up again for this fortnight. I'm gonna get straight back into working through the protest march social event! There's still a lot to do, so bear with me! Thanks so much for taking the time to come by and read up on the project. All of your support and passion truly inspire me.
I will see you all again in two weeks! (where hopefully this Social Event will be fully completed)
Here's the fan art I will be featuring this week from ARHDian. Isn't Jayda just so cute when she's playing games?
Check out ARHDian here: https://twitter.com/ARHDian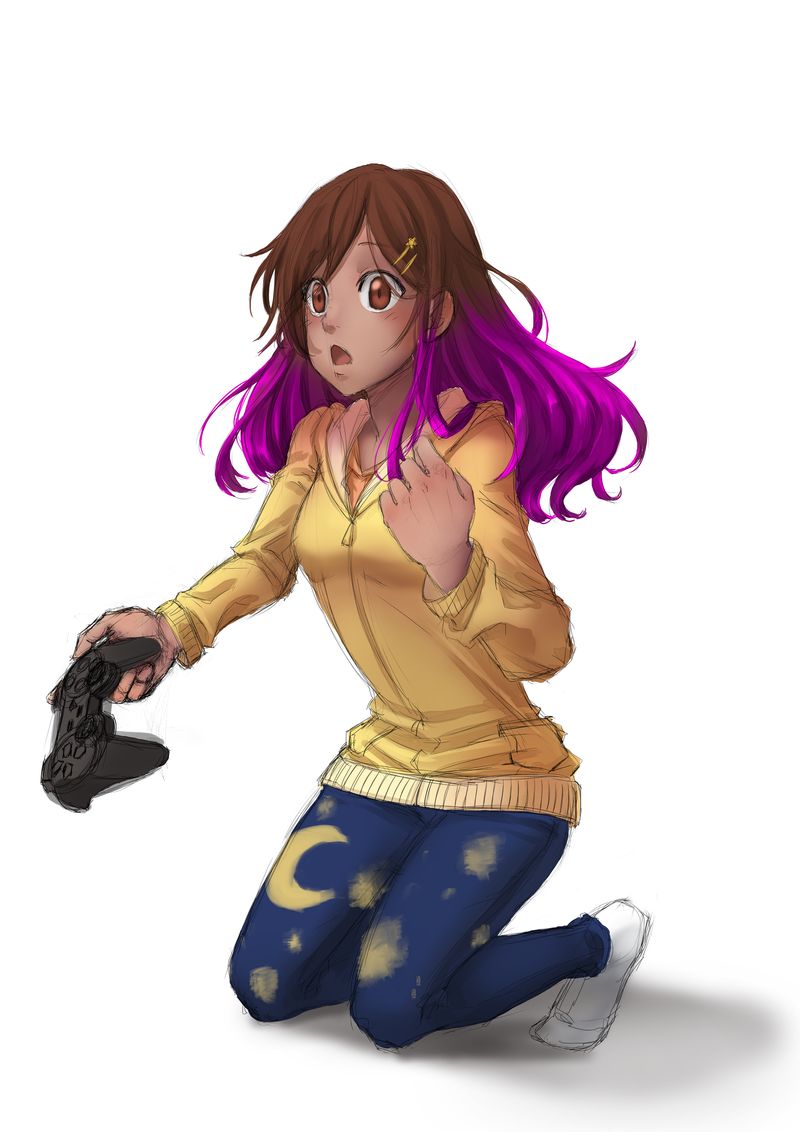 Get LoveSick Darlings - Relationships with Consequences