LoveSick Darlings - Relationships with Consequences
LoveSick Darlings - Project Update #6
---
Hello! Sorry for the delay leading up to this update! Although, chances are you saw the thumbnail for this update and have an inkling as to why it may have taken a little longer. I have been a bit busy working on something special for the future of LoveSick Darlings...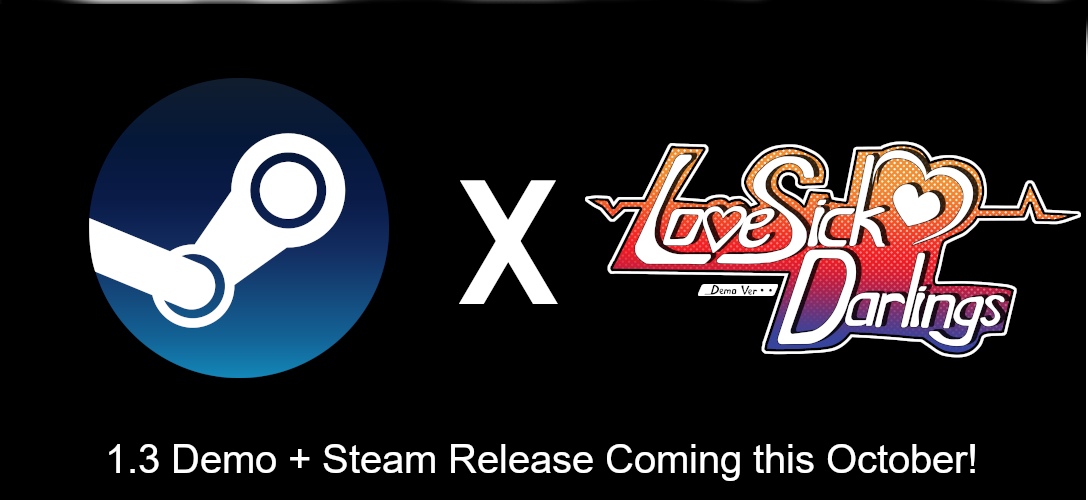 Official Announcement #1:
The day is finally here! I've been asked countless times in countless different ways, but I can finally confirm it for you all: LoveSick Darlings is going to get an official STEAM RELEASE! Pop those party poppers. Woo.

For the last few weeks, I have been working on putting together a few things for the long-term future of LoveSick Darlings - and securing the Steam platform and learning the ins-and-outs of SteamWorks has been my most recent endeavour.
In OCTOBER 2019 LoveSick Darlings will launch its Steam store page, featuring the brand-spanking new FREE 1.3 demo with added content and features! (NOTE: The game will not be out. There will just be a visible store page with info and the free LoveSick Darlings 1.3 Demo ready to download to your steam library)

What's that? You wanna know about 1.3 demo? Well, wonder no more...!
Official Announcement #2:
To celebrate the release of LoveSick Darling's demo on Steam, it is going to hit the ground running with the most recent version of LoveSick Darlings! This version will include: new art assets, new UI, and MORE content than ever before (two whole in-game days!).
It's going to be the most polished version of the game yet. You know those terrible place-holders and blank-space backgrounds? I'm gonna get rid of them all - and in their place, we will see glorious beautiful art assets. I hope you all look forward to it!
Mark the date on your calendars, October 2019 is when the FREE 1.3 demo hits the digital shelves of the Steam! Sorry I don't have a more specific date for you to mark, but I promise I'll give you all a firm date as soon as possible. Just circle the whole month of October for now. It's gonna be great!
Don't think I forgot all of here on itch.io though. The 1.3 demo will be launching here at the same time too!
There's still more to announce with related big news regarding the future of LoveSick Darlings - but I might save that til next week! The next big update may or may not have something to do with the future funding plans I talked to you all about relatively recently...
Sorry to keep you all in suspense, but I hope you look forward to hearing more next time!
Progress on the game:
Progress on the game has been put on hold for now - as I work to go back and make sure the launch of the 1.3 demo is as clean and perfect as humanly possible. This basically means I am going back over to polish the content I already have, rather than creating new content for the latter half of the game as I have been doing. I still didn't get to wrap up all of "Week 7" of the game yet, but I promise that will get done as soon as 1.3 is ready to go.

So what work needs doing for 1.3? First and foremost, I need to edit the demo to include the two new days of content (important!) and then to go back and make sure to replace all of the placeholder art assets with their brand new forms. This includes a few backgrounds, but most importantly, the sprites of Stuart, Grace, Tammy, Albie, and Nacho are finally gonna be viewable...! There's also gonna be UI update, as I figured it was proooobably about time I moved on from the renpy default (frankly, I've been relying on it too long...) But those are the major things coming with the 1.3 demo itself.
Progress on assets:
I can't say too much yet, but... you guys will see more soon! I know I say that every time but, we're getting there - I swear!
As a reward for your patience, here's a sneak preview of a certain favourite boy from LoveSick Darlings...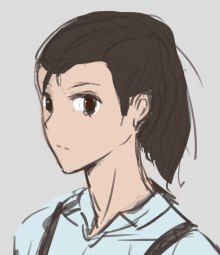 He has evolved from being a silhouette...!

Special Message:

I love every one of you who has played and supported LoveSick Darlings. I really do mean that. The support and community response so far has been nothing short of lovely. However, I just wanted to say a special thank you in particular to those who donated directly to this game expecting nothing in return: thank you so much. Really. This Steam release has had quite a few unexpected costs so far, and they have been entirely covered and then some thanks to the donations I have received here on itch.io from kind strangers who wanted to support my game.

I wanted to take the time to thank you all now, considering the money you guys donated directly went into the fees for securing LoveSick Darling's presence on Steam. Thank you so much.

Additionally, I know this update is all Steam hype and fan-fare, but I do want to also thank itch.io for hosting me and creating such an amazing platform for broke creatives like myself to make things. I'm so thankful for this.
Conclusion:
Anyways, with all that out of the way - I hope you guys are starting to get excited! And if you aren't, then you sure as heck will be by the big news coming next week! It's an exciting time for the future of LoveSick Darlings right now, and I hope you all continue to stick around and see what happens on this adventure!
Follow me on Twitter @LoveSickDarling to find out when the next update lands! Til next time, everyone!
Get LoveSick Darlings - Relationships with Consequences
Comments
Log in with itch.io to leave a comment.
Good luck! Hoping the best for you!
Yay! Can't wait to whishlist this! =D